Reach your fitness goals easily, with a full interactive display providing the latest fitness classes and personalized virtual coaching sessions.
Dedi provides a total home gym, all within a sleek decorative mirror. Gather friends together for a motivational fitness party or a group training session. And when your Dedi is not in use, it is an elegant mirror that fits anywhere.
Specifications
Dedi standard
Dedi flex active
Dedi limitless
Mirror Size (Inches)
22" x 50" x 1.18"
29" x 65" x 1.18"
40" x 85" x 1.18"
Mirror Size Centimeters
55.9 x 127.0 x 3.0cm
73.6 x 165.1 x 3.0cm
101.6 x 215.9 x 3.0cm
Monitor Size
40" Diagonal
55" Diagonal
75" Diagonal
Monitor Resolution
4K, 3840 x 2160 pixels
Touch Screen
10 Point Multi Touch
Integrated Camera
8 Megapixel (can be disconnected)
Embedded Microphone
Omnidirectional Microphone (can be disconnected)
Connectivity
Wi-Fi, LAN, Bluetooth, HDMI
Operating System
Android 7, upgradeable.
Installed App
Mirror Feeds
Power Requirement
24 volt, 8 amp.
24 volt, 11 amp.
24 volt, 16 amp.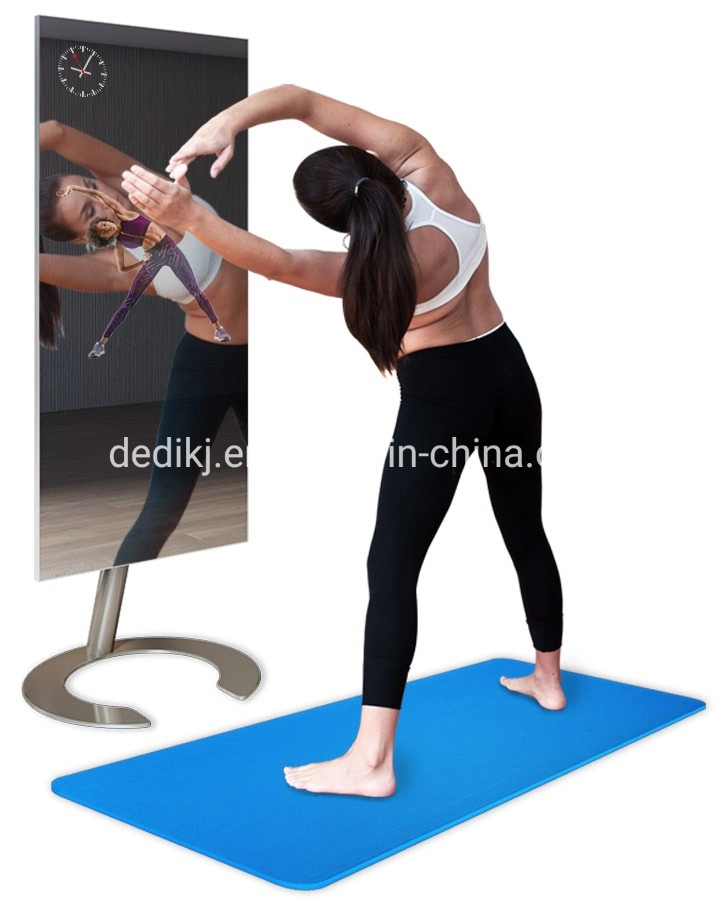 Don't sacrifice the quality of working out of the gym with the convenience of staying at home, with dedi you can have the same experience -of even better -in the comfort of your own home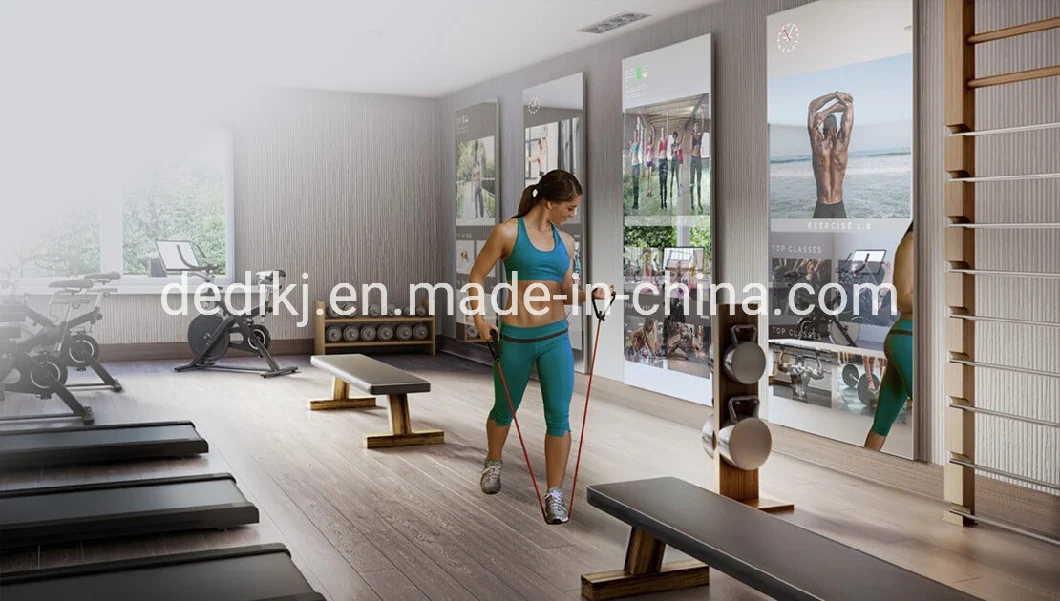 STAND ALONE MOUNT
The Dedi Stand-Alone Mount has a beautiful stainless-steel finish and can be moved around as needed. This stable floor stand is a great option for those who like to change up their fitness space from time to time.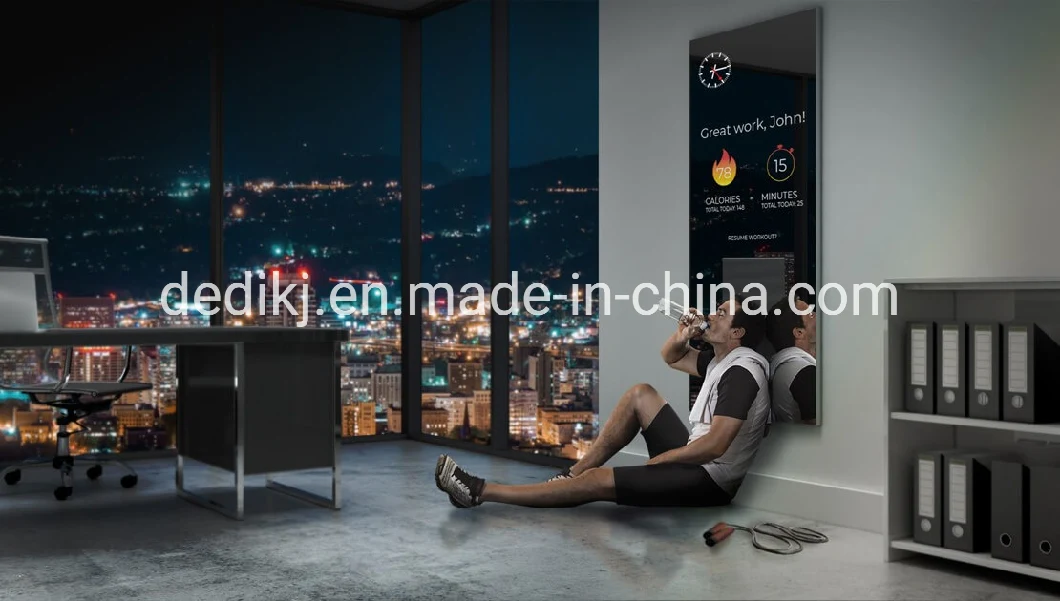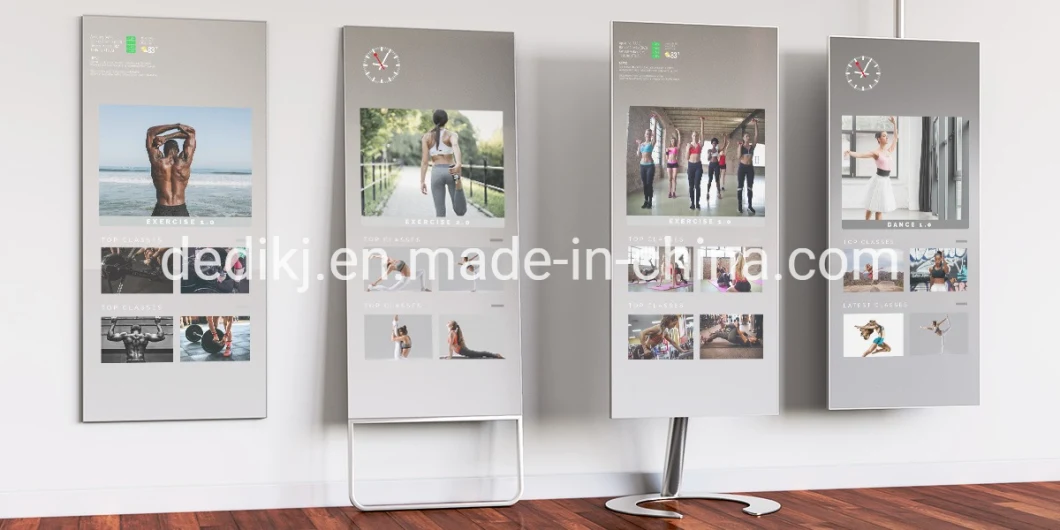 Yes. 4K UHD makes the difference. With 4 times the resolution you will see a beautiful and vibrant picture quality.

Bitmap

4K Ultra High Definition?

Full HD or less
No, there are many great apps available, free of charge and without long-term commitments, so you can easily change your workouts.

Bitmap

Monthly Subscription Required?

Yes, subscription required

Yes, talk to the mirror and Google Assist will help you. You can also sync the Dedi to Google Home.

Bitmap

Google Assist Voice Control?

No

Yes, very easy to control. After a workout, with a simple touch on the mirror you move to the next session.

Bitmap

No

Yes, Dedi works with all your favorite Apps. Why limit yourself with just one app? Maybe you want to take dancing lessons next year. Who knows. With Dedi , you can do it all.

Bitmap

No

Yes.Dedi comes in 3 sizes: Standard, Active and Limitless. For people who do more active workouts, a larger mirror is recommended.

Bitmap

Different sizes available?

No

Yes. Dedi offer 4 types of installation, so there is one that will work best for you.

Bitmap

Different mounts available?

No or limited

Yes. MirrorFeeds App provides the time, stock quotes, weather and news.

Bitmap

Extra 12.1" Panel on top?

No

Yes. Dedi has a high resolution 8MP camera built inside that will allow you to take high quality video and pictures. (The camera can be disconnected)

Bitmap

No, usually 2MP or 5MP

Yes. Dedi has a silver, realistic reflection, that can be used as a regular mirror when the monitor is off. The monitors will vanish completely when not in use.

Bitmap

No, tinted